our environmental policy
The preservation of the environment is important to us and we at Stoddarts believe that a sustainable approach to environmental management is imperative. This commitment extends to ensuring that the company's operations make the most efficient use of natural resources and energy, and that our impact on natural ecosystems is minimal.
Where possible, we will minimise our production of greenhouse gases, promote the use of renewable energy, and implement and promote environmentally friendly policies and structures. In addition, Stoddart's is committed to implementing best practice in environmental waste management.
energy efficient glazing
Window sizing and placement needs to be carefully considered in the design of any home to adhere to solar passive design principles. In addition to good design, energy efficient glazing can reduce heating and cooling costs to improve comfort and reduce electricity bills.
Double-glazed windows can reduce heat gain/loss by nearly 30% compared to single-glazed windows, along with reducing outside noise. Triple-glazing has superior performance for use in cold climates.
Coatings can be added to your windows as a cost effective way to improve energy efficiency. Examples include low-E coatings, toned glass and reflective coatings.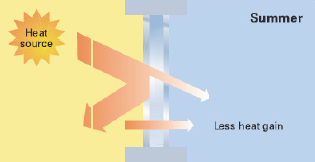 Glazed glass helps prevent heat from entering in the summer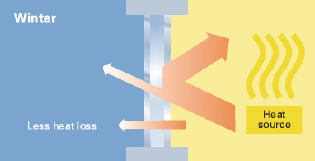 Glazed glass helps prevent heat from escaping in winter